Marcus V. A. Bianchi
Senior Building Science Program Lead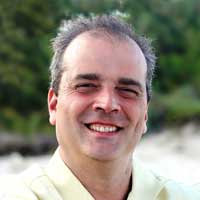 Marcus V. A. Bianchi is Senior Building Science Program Lead with Owens Corning. In this role, Marcus is responsible for developing sustainable solutions to deliver durable, comfortable, safe, healthy and energy efficient buildings. Examples of projects include roofing systems in metal buildings and livestock facilities, insulation of masonry and light steel and wood frame construction and acoustical performance of drywall partitions. Marcus is also involved in building code and standard development in Latin America and in the United States.
Prior to joining Owens Corning, Marcus was senior research engineer at the National Renewable Energy Laboratory where he conducted research on deep energy retrofits of existing houses. His research experience includes topics related to thermal sciences, such as building envelope thermal management, fault detection and diagnostics of HVAC equipment, materials processing and bioengineering.
Marcus is active on ASHRAE, where he currently chairs Technical Committee 4.4 – Building Materials and Building Envelope Performance. Marcus received his Ph.D. in mechanical engineering (heat transfer) from Purdue University, is a licensed Professional Engineer in the state of Colorado, and is technical editor of Home Energy.