Clarke Berdan II
Senior Technical Services Leader, Insulation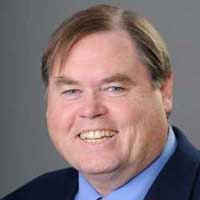 Dr. Clarke Berdan has been with Owens Corning's Science & Technology Center since 1981. He is currently the Senior Technical Services Leader for the insulation products businesses. His group operates from within the Insulation Marketing organization with strong ties to the Corporate Sustainability organization and thus provides the businesses his team support with a view to products and applications through the lens of sustainability. They are very active in industry standards and code language development.
Dr. Berdan's experiences cross a wide range of product and process development as well as process and building modeling. Much of his work has focused on the understanding of the physical operations of building envelopes from the theoretical through the practical aspects of the transport phenomena that exist in the built environment. Product development is very important, but to enhance the success rate, it must come from a systems approach that understands what problems are needed to be solved and how products work as integral parts of systems over their useful service life.
Dr. Berdan received his doctorate degree from the California Institute of Technology, majoring in Chemical Engineering. His bachelor's degree is from the University of California at Berkeley in the same discipline.